1881 Census Records
George Henderson (1853-e1923), his wife Helen (née McCallum) (1854-e1929) and their one year old son John (1880-e1945).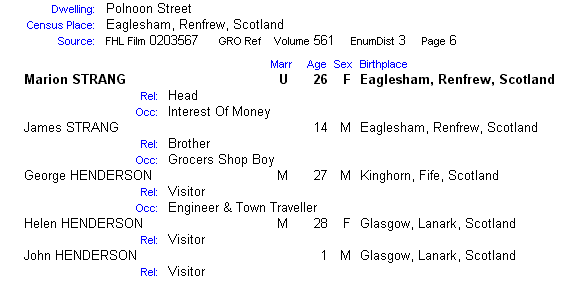 ---
Henry Powell (1848-1929), his wife Mary Ann (née Franckling) (1849-1912), their 3 young children Henry Franklin (1876-c1974), Maude Florence (1878-e1968) and Emma Breach (1880-1972), a boarder and a servant.
The Census contains an erroneous second record for this household. Looking at the walk-order (and you can see this on a map), the Census Enumerator came from Stork's Road and then did the odd numbers on one side of Clement's Road (from 11 to 1) and then the even numbers on the other side (from 2 to 14) before returning to Stork's Road. In the second record below, the Census Enumerator came from Tranton Road, then did just numbers 2 and 27 in Clement's Road before going on to Keeton's Road. Note, in the two records, some differences. The 4 year old Henry, whilst this was his official name, was known to the family as Harry. The father was known to have been a warehouseman for the shirt manufacturer McIntyre & Hogg.
---
Joseph Henry Redman (1848-1900), his wife Ellen (née Carden) (1852-1932), their 2 young children Ethel (c1878-1952) and Harry Eastland (1880-1950), the mother-in-law Louisa Carden (1818-1887), and 2 servants.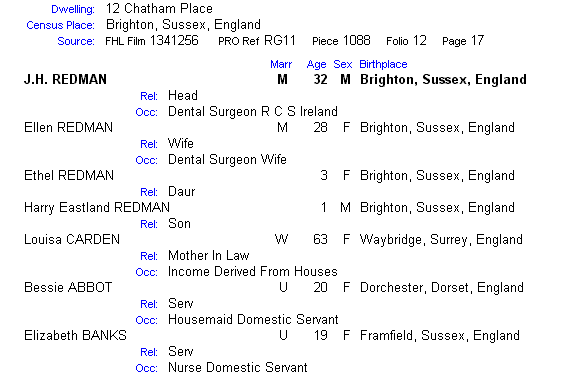 ---
Revised on 09 February 2005